Friends of pens and stamps, be welcome!
Receiving the largest amount of postcards is my objective !
From China, Australia, North Pole or Timbuktu, your postcard is very important for me.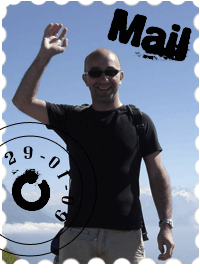 Address
Christian,
Je t'envoie une carte postale
4 rue de la fraternité
90000 Belfort
FRANCE
What is this website?
Postcards in my website come from postcrossers, friends (i thank them for their kind thought during their holidays), some discovered at the end of a drawer, some others from unknown persons met on my web tough matches (Miniclip players know what I'm referring to...) or simply from persons that Google's meanders have been landed here!
How to be part of this project?
It's simple: It's enought to get a stamp, a pen and a postcard of your town or a country you are visiting. Write some nice words, stick the stamp and mail it to my address. Wait some weeks, and... your postcard will appear on my website together with the others! Simple, isn't it?
Why to do so?
No reasons, unless to be kind with me and to see your postcard shown with the others!
Well, will you send me your postcard?
I hope so!
Many thanks in advance!
Categories

Latest postcards received

The Le Prado family around the world